When searching for a manufacturer to produce your goods, it's vital to provide them with a clear and comprehensive tech pack.
A tech pack is a vital document that designers, production teams and manufacturers use to develop and create a product you intend to sell to your customers.
Far too often, however, we see designers rush through the tech pack creation process – thinking it isn't a critical part of the product development stage. The result is ultimately misunderstandings, a breakdown in communications, delays and expensive errors which could have been easily avoided.

So if you're wondering what a tech pack is, read on.
Below, we'll outline everything you need to know about a tech pack. We'll explain what they are, why they're important, what's included in a tech pack and – importantly – how to make one.

What is a tech pack?
A tech pack, short for technical packet (and also known as blueprints or a spec sheets) is a 'pack' of documents designers put together to outline their design to a manufacturer. The manufacturer will then take the tech pack and produce a final product based on the design.
The tech pack is the very last blueprint – the 'master document' – containing every element and instruction a manufacturer needs to transform your design into a complete sample (and, ultimately, a product that you're then able to sell).
Most (good) manufacturers on the market will not accept your brief unless you provide them with a comprehensive tech pack.

Why is a tech pack important?
A tech pack is essential to creating a product because:
It lessens the number of samples you need, ultimately fast-tracking your idea and your product to market (and saving you both time and money).

It allows the manufacturer to provide you accurate quotes, as they will know exactly what is required to bring your design to life.

It leaves no room for dispute. It forms the benchmark of your product and signals a clear expectation of what is required from the manufacturer.

It lessens the number of mistakes – and that's ultimately because tech parks are a form of highly effective communication. In an increasingly multicultural business environment, tech packs are universally known as the ultimate blueprint from which to create the product.

It is the final instruction manual. As your product moves through the supply chain and passes different hands, it is easy for revisions to get lost or just misinterpreted. Tech packs reduce the likelihood of this happening as it is known to be the final instruction manual.

It saves time when producing future products. You can refer back to a tech pack at any time you need. They can also be very easily used over and over again.

What's included in a tech pack?
You'll need to know what to include in a tech pack when presenting to manufacturer. An effective tech pack will include:



Technical drawings – including things like construction notes, dimensions and computer-aided design (CAD) materials. Drawings which show the front, side and back views – as well as close-ups – of the design are very useful for a manufacturer to rely on. They should include every small detail, such as pleats, pockets, plugs, holes or whatever is relevant to your product.



Sizing and quantities. Your tech pack should come with precisely the sizes you are looking for, as well as the quantities you're ordering. For your first sample, one clear single size should ideally be provided.

Bill of Materials (BOM). You should also detail the precise raw materials that makes up your product, whether that be steel, cotton or copper. If you're having clothes produced, your regular BOM table will include your main fabric, lining, thread, labels and trimming. Technical designers will usually be responsible for putting together the BOM.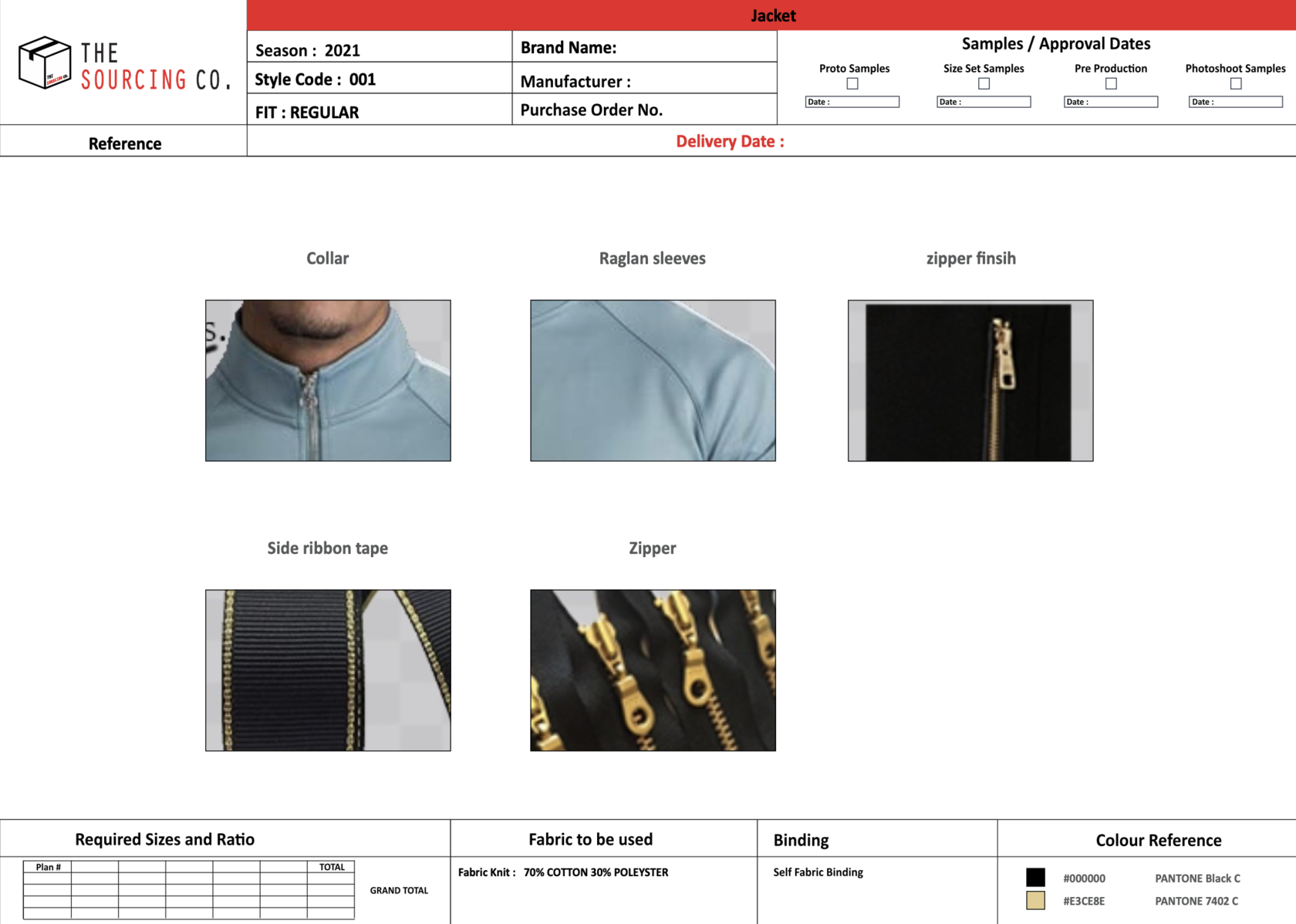 Basic order details. Your tech pack should specify when you expect the products to be delivered, where and also how you would like your products packaged.

How do I make a tech pack?
There are a variety of ways to make a robust tech pack, whether it be by yourself or engaging a third party to do it.

Traditional methods.
The traditional way to make a tech pack is to use software such as Microsoft Excel, PowerPoint or Adobe Illustrator.
These products may appear easy to use but it can be difficult when edits are made to the tech packs and different versions start to appear through the amendment process.
When different versions are continuously created as read-only attachments, PDF files or even printed files, it becomes very difficult to collaborate.
There is also the risk of tech packs accidentally being emailed to a third party. Sometimes they can be shared via links, and those links expire.

Digital methods.
Other ways to create tech packs are through installing software specifically tailored to build tech packs. This includes programs like Techpacker and SupplyCompass.
These programs are cloud-based and allow users to create and develop tech packs in shorter periods of time rather than through sending emails back and forth. They're also easy to share and allow for collaboration in real-time.

Engaging a production expert.
The most cost-effective and efficient way to produce a high-quality tech pack is to engage a production expert who knows precisely what is required to create one.
Production experts make hundreds of tech packs as a matter of routine, and are specialists in sourcing the exact manufacturer their clients need in order to bring the ultimate product to life and fast-track it to their client's shelves.
This is the essence of what we do at The Sourcing Co. We're a leading sourcing company in the Asia-Pacific that specialises in sourcing suppliers and producing high-quality tech packs for both multinational and small business clients alike.

We take your product from the conceptual and design stage, right through to the production process. We'll source an ethical and reliable supplier, provide them with a clear and concise tech pack and then arrange for your product to be delivered to you – making us your one-stop shop for your product development needs.

Contact us today and we'll start the process of transforming your vision into an incredible product.